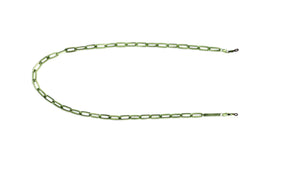 Ron in Green
Product Information
Beautifully created by FRAME CHAIN.
Our infamous RON chain has been dipped in metallic hues and polished off with a clear enamel coat. Midweight and maximum impact.

Midweight link chains coated in metallic enamel. 
72cm long and comes with one set of black and one set of clear rubber loops
Logo on the end of the chain.
Can be worn as a necklace or glasses chain.
Feel free to add multiple chains for your own personal style.