The Ultimate Guide to Blue Light Glasses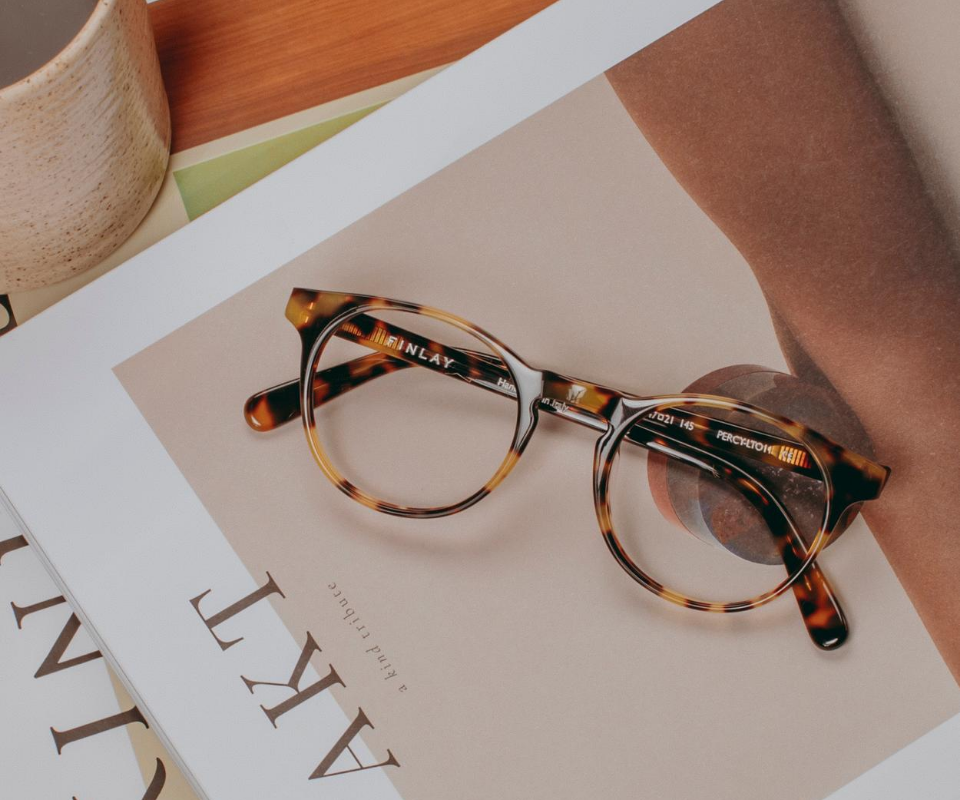 The ultimate guide to blue light glasses
Add a blue light filter to any prescription or non-prescription Finlay glasses for just £35.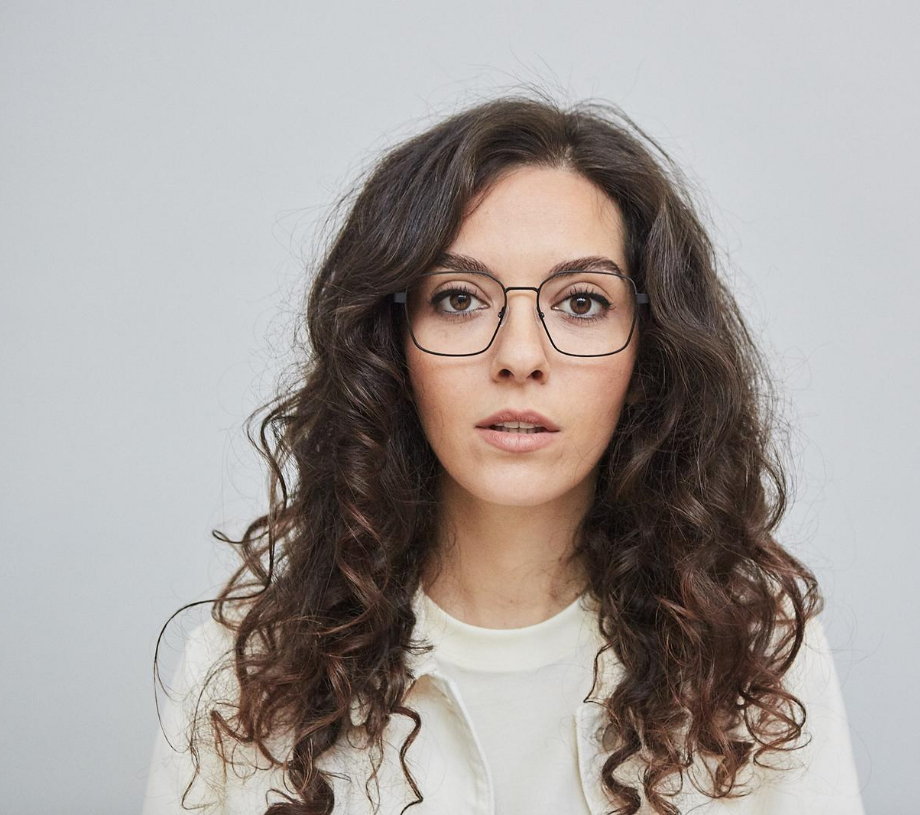 Digital screens (like phones and laptops) all emit blue light. Too much of this light can interrupt our circadian rhythm, make us feel tired, and cause digital eye strain. 
Blue light glasses contain a filter specifically designed to reduce the amount of this light entering your eyes.
The sun's blue light can affect our sleep cycles (circadian rhythm). Exposing your eyes to excessive amounts of blue light from digital screens is unnatural and can be harmful. Research is being conducted into the possible connection between blue light from our screens and Age-related Macular Degeneration caused by blue light from the sun. However the amount of blue light emitted from screens is very small.

Our blue light blocking glasses can help protect your eyes from harmful blue light and could reduce symptoms such as dry eyes, headaches and affected sleep cycle.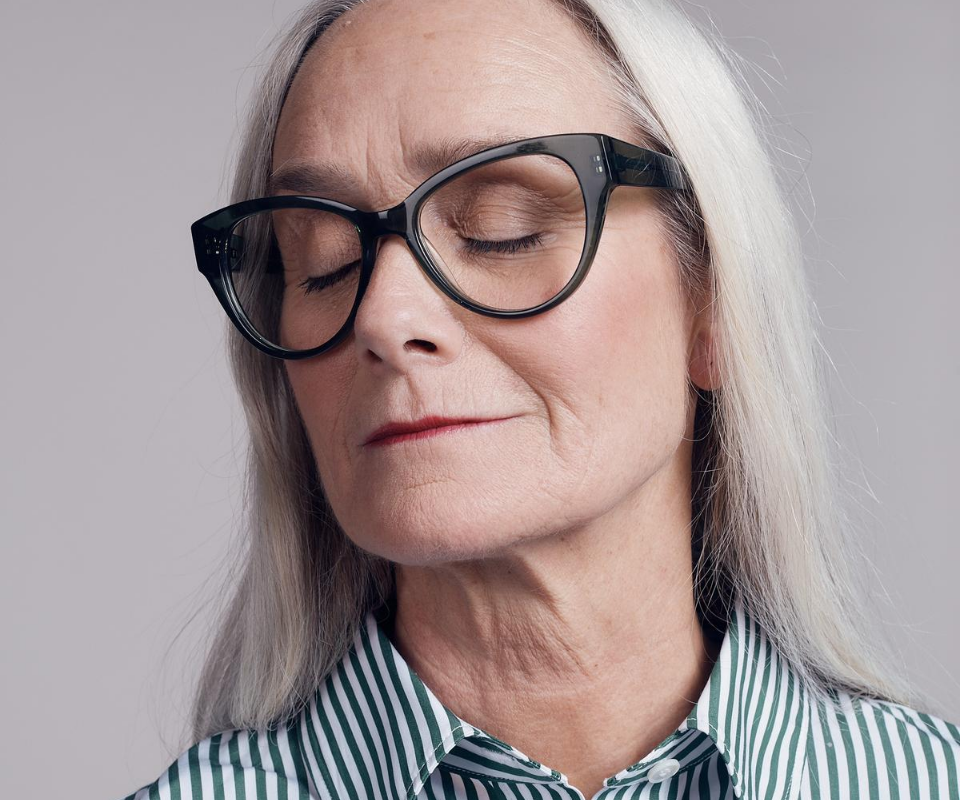 What is blue light?
Time for a quick science lesson… Blue light sits towards the UV end of the visible light spectrum and naturally comes from the sun. 
During the day there is an abundance of it around, even on a cloudy Autumn's day, and this causes the body to produce hormones (like cortisol) which make us feel awake. 
Then in the evening, as the sun sets and blue light is significantly reduced, our bodies can begin preparing for a night of good sleep quality.
Is blue light bad for you?
The screens of our laptops, smartphones, iPads, tablets, and so on, also emit blue light rays (although at a lower rate than the sun). As a result, if you're working in front of a computer screen late in the evening, blue light can disrupt your body's natural circadian rhythm and sleep quality.
Ever spent a long day in front of a digital screen and suffered from eye fatigue, poor sleep quality, headaches or migraines? Don't worry. You're not alone.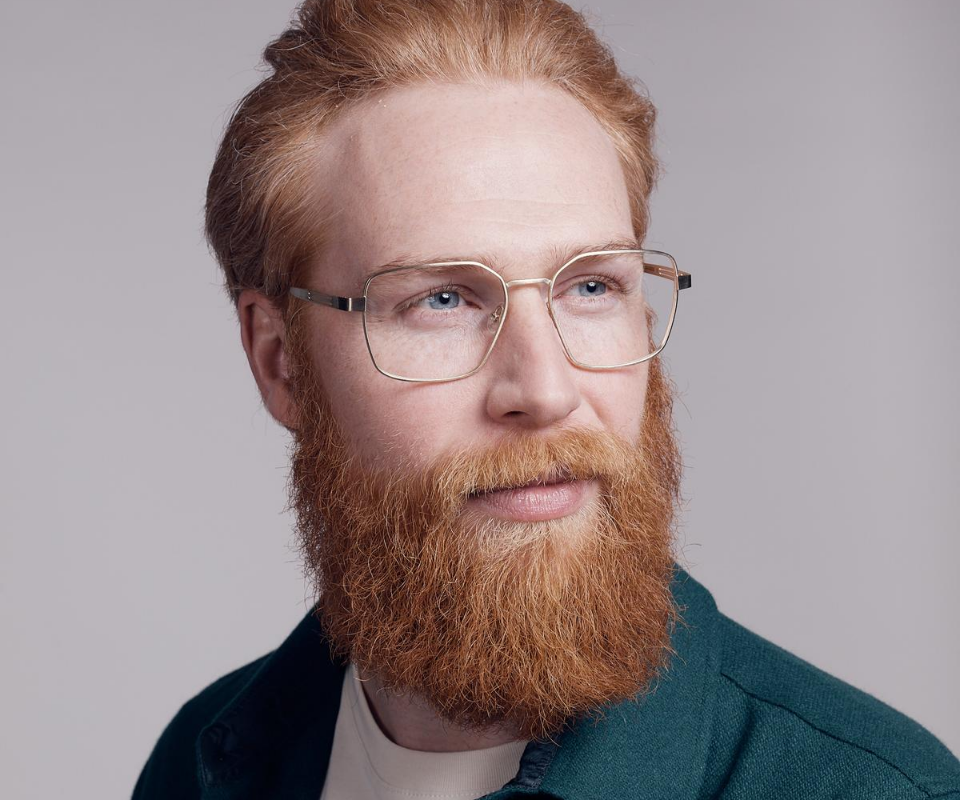 How does blue light affect your eyes?
It's very easy for blue light to enter your eyes as it has a short wavelength. This means it can pass through your cornea and lens and into the retina.
Some experts suggest this can lower eye health and damage the cells in your retina, although the research on this is insufficient at the moment.
Why's everyone talking about blue light glasses now?
Even before lockdowns and working from home, we were all spending more time looking at digital screens. That has gone up again in the past 12 months, and the proximity of screens to our eyes has led to concerns about the long-term effects of blue light on eye health.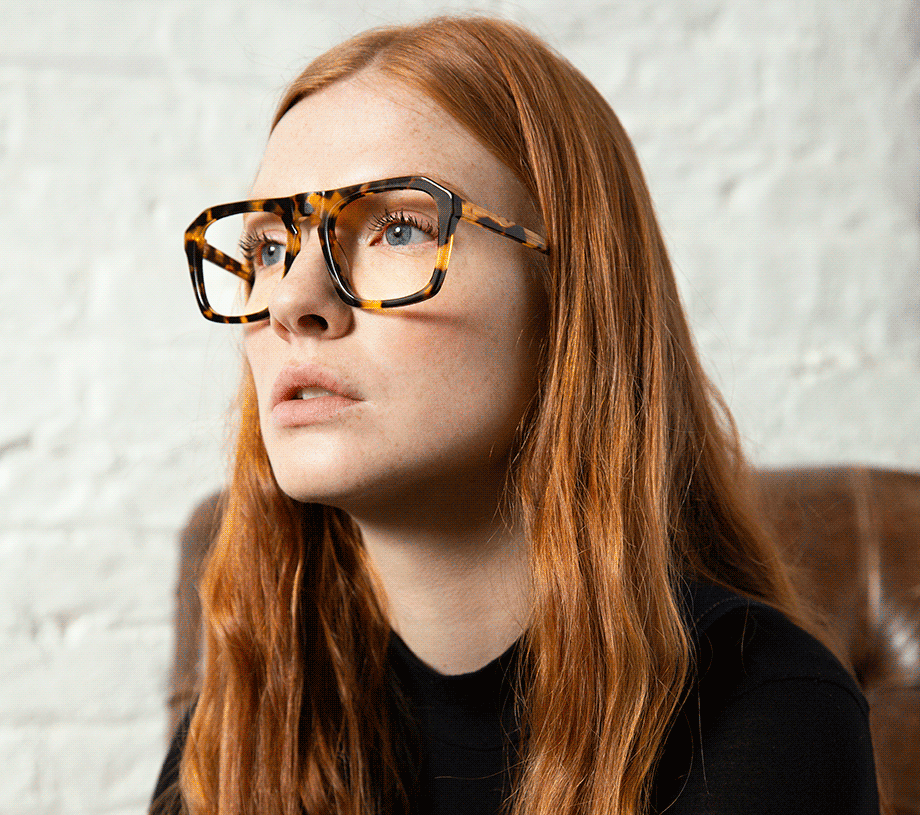 What do blue light glasses do?
First off, these glasses have many different names such as blue light filters, computer-use lenses, or screen glasses. To avoid confusion, at Finlay we talk about adding a blue light filter to your glasses.
Applying this filter to the lenses of your glasses blocks a high percentage of blue light rays from entering your eyes. This can regulate your eyes' daily intake of it, helping you improve sleep quality.
Do blue light glasses work?
This is still up for discussion amongst optometrists and spectacle-wearers. Current research doesn't prove that modern digital displays emit enough blue light to be harmful. However, continuous screen time use does increase light scatter and affect our focus, so reducing our exposure to it can improve focus.
Do blue light blocking glasses help with eye strain?
Again there is no concrete evidence for this but it's worth saying that eye strain can occur for numerous reasons.
Looking at a screen for too long can lead to eye fatigue. Sitting too closely to digital screens can cause strain in your eye muscles. Or just having the glare of your glasses reflect onto your screen can lead to squinting and eye fatigue. There's more about blue light impact and symptoms later on.
Should you get blue light glasses?
If you are using digital screens a lot then a blue light filter could definitely be a good choice for you. Blue light filter glasses come with a slight yellow or blue tint which is the only distinguishable feature from regular lenses. If you have any of the following symptoms then anti blue light glasses reduce harmful blue light entering your eyes and can help.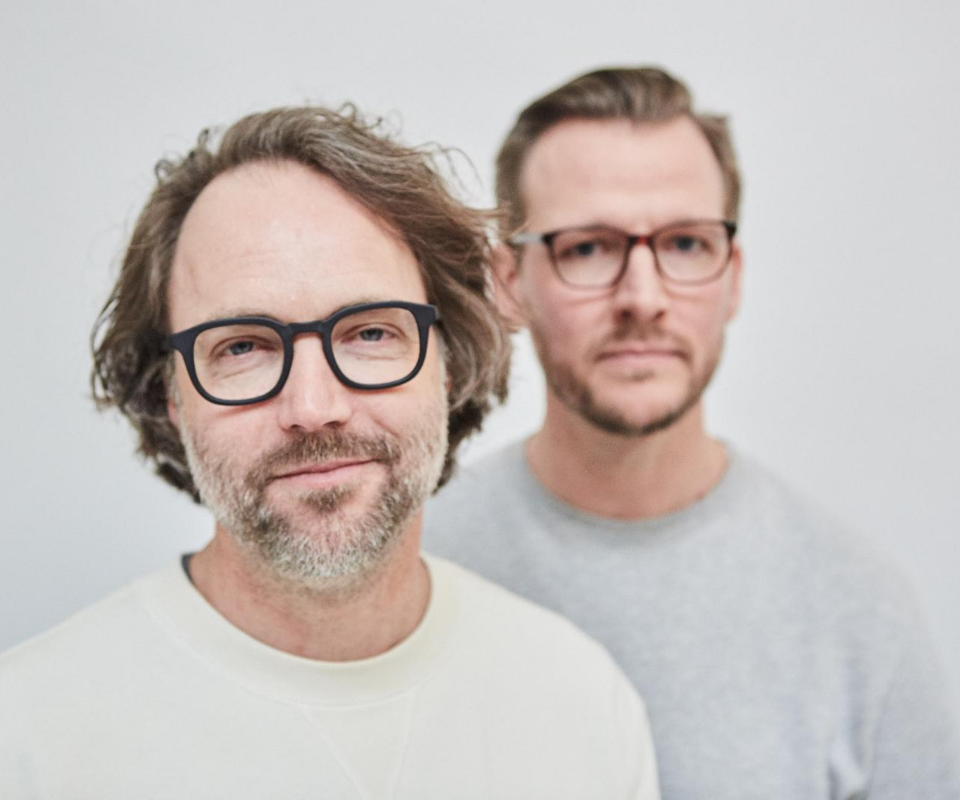 Do blue light filters affect your prescription?
Nope. The filter we add is a premium coating perfect for regular screen users. If you have any questions or concerns then you can always get in touch.
Are blue light glasses blue?
No. They look and feel pretty much exactly the same as your normal glasses. The lenses have a slight yellowish tint to them but typically you won't notice this.
Can you add a blue light filter to Finlay glasses?
Yep! Once you've selected your glasses and lenses (whether prescription or no prescription), you can add additional extras like engraving or nose pads. One of those extras is a blue light filter which costs £35.
Want more info? Get in touch or pop by one of our stores for a chat.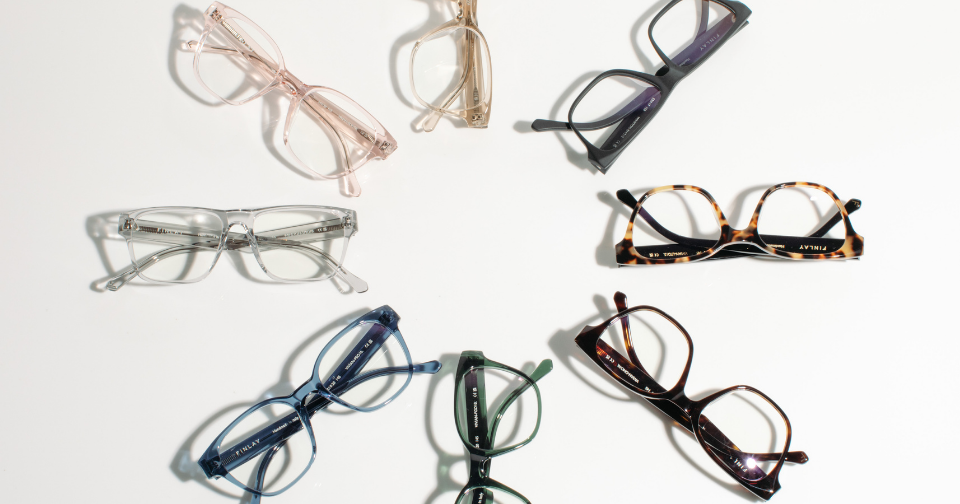 Here are some of the symptoms from excessive blue light exposure and screen time.  If you are suffering from any of these then blue light filter glasses could offer some protection.
1. Eye strain
If your eyes begin to feel tired and dry after excessive screen time, you may have digital eye strain.  Consistent blue light exposure, flickering LED screens and reduced blink rate whilst maintaining focus for extended periods of time can all contribute to digital eye strain.
2. Headaches
A more uncomfortable symptom associated with harmful blue light. So rather than taking painkillers and carrying on, why not try to solve the route cause? You might not even realise that headaches are a symptom. Long hours using your eyes in any context can cause headaches and blue light can aggravate things greatly. 
3. Trouble sleeping
Blue light can greatly affect your ability to have a good night's sleep. How does blue light affect your sleep cycle? The sun emits natural blue light which signals your body when to wake up. Blue light can tell your body to stop producing melatonin, the chemical that makes you sleepy. So if you use screens before bed you can be confusing your body.
 4. Dry eyes
When using digital screens we tend to stare more intensely, whether for work or play. This is especially true for gamers where they cannot miss a second and so blink less. Flickering blue light and less frequent blinking can intensify dry eyes.
5. Blurred Vision
When we look at our devices for an extended period of time, your eye muscles can fatigue causing blurred vision.  If you have any underlying visual issues then overuse and blue light can make things worse.  Wearing protective eyewear helps protect your eyes for longer.
If you are suffering from any of the following symptoms then we would encourage you to see your optician first or book an eye test  in one of our stores. You could benefit from FINLAY's blue light blocking lenses.
Otherwise, if you're worried about the effect of digital screens on your eyes then a blue light filter is a good place to start. The lenses filter out the light rays, helping to prevent them from entering your eye and causing potential damage.