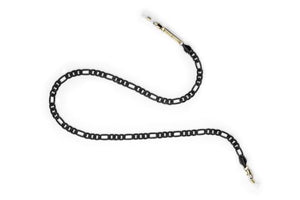 Panther Black
Product Information
Beautiful created by FRAME CHAIN.
Matte black lacquer glasses chain with yellow gold finishes. A mid weight figaro chain sprayed with black lacquer.
Midweight figaro chain.
18k yellow gold plated ends on a black lacquered chain.
Logo in the middle. 
67cm long and comes with one set of black and one set of clear rubber loops.
Can be worn as a necklace or glasses chain.
Feel free to add multiple chains for your own personal style.