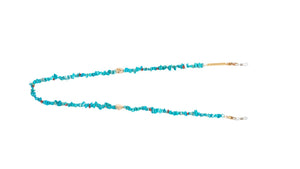 Sunset and Dreams
Product Information
Beautifully created by FRAME CHAIN.
Turquoise. Gold and tiger stone scattered with precision across the chain. Sunset dreams can travel with you way long past the night you had them.
18kt yellow gold plated details, turquoise gem stone and tiger stones.
76cm length.
Logo on the end of the chain.
Can be worn as a necklace or glasses chain.
Feel free to add multiple chains for your own personal style.