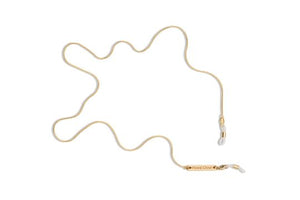 Slinky Gold
Product Information
Beautiful created by FRAME CHAIN.
A rinky dinky slinky – Easy entry pieces in fine chains — from standard issue fine Egyptian chains, slinky snake chains and super fine but super strong box chains. Yellow, white and rose gold plated. Black achieved with oxidised rhodium.
18k yellow gold plated snake chain.
Logo on the end of the chain.
67cm long and comes with one set of black and one set of clear rubber loops.
Can be worn as a necklace or glasses chain.
Feel free to add multiple chains for your own personal style.