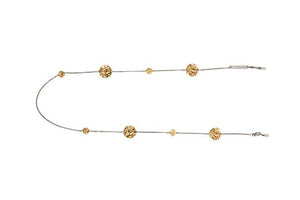 Golden Hour Yellow and White Gold
Product Information
Beautiful created by FRAME CHAIN.
Golden talisman coins interspersed along a white gold strong and delicate glasses chain. Designed to frame the face with in its fullest glory reflecting the light exactly when and where you need it. 
18k yellow and white gold plated. Golden coins and white gold chain.
76cm long.
Logo on the end of the chain.
Can be worn as a necklace or glasses chain.
Feel free to add multiple chains for your own personal style.